Review: Cosmopolis
Posted on Tuesday, July 3rd, 2012 at 5:11 am
Author: Mark Farnsworth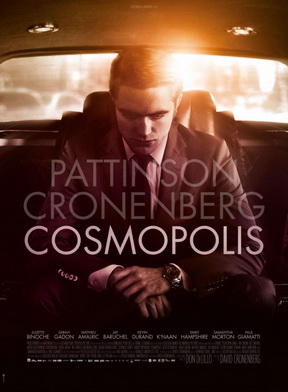 The grin on Eric Packer's limo is 50,000miles wide. And why wouldn't it be? His limo is bullet proof, bomb proof and future proof. He's a billionaire investor rocking the fly honey heiress and hangs with rap stars like Brutha Fez. He can get his prostate checked out daily and snap up priceless art with the flick of his wrist. Eric's so rich he has two private elevators: one each to suit both of his moods.
Eric is 28.
What Eric wants Eric gets and what Eric wants right now is a haircut. Torval his Christopher Walken bodyguard/chauffer tries to talk him out of it. The President is in town and New York is gridlocked. Besides that, Torval tells Eric there's a "credible threat" to his safety. But Eric wants a haircut so assumes his Captain Kirk chair, sets his face to stun, and hides behind his shades and a world-weary manner.
Eric is so restrained he should have his jackets styled by Guilleret. This man could be moving at warp speed or travelling back in time: either way he seems so alien, so removed from reality that he could be an android or a scaly lizard beast lurking behind a fake human skin. Even his suit looks like it could fold itself away and book a round-the-world trip on Concorde.
In the back of his limo Eric reminds Shiner, his oldest friend and business partner, that they were "young, smart and raised by wolves" but there's nothing lupine about him, no snarling animal soul only cold efficient logic – a data vampire dreaming of existing in a future that hasn't been thought of yet. "Where do all these limos go at night?" he ponders. Shiner thinks on grander scale, "People eat and sleep in the shadow of what we do."
But what exactly do people like Eric really do? Director David Cronenberg wraps Don DeLillo's characters up in a shroud of pseudo science and startling self-importance. Whilst the anti-capitalist demonstrations descend into riots, Eric is happy to lose hundreds of millions of dollars every hour by betting against the Yuan's rising exchange rate. Eric may be gradually losing the shirt off his back but money in his world is ephemeral, a phantom that can't be seen or held, a philosophical idea rather than cold hard cash.
"Cosmopolis" isn't so much a road movie but a capitalist curb crawl into the soul of the super rich. Robert Pattinson is eerily effective as Eric Packer holding court in his space age limo. It's a great claustrophobic performance hemming in at varying stages Juliette Binoche, Sarah Gadon, Mathieu Amalric, Jay Baruchel and Samantha Morton before flat lining worse than the Greek economy in a tedious showdown with Paul Giamatti.