Everything you loved or hated about San Diego Comic-Con seemed to get bigger this year: the lines, the parties, the announcements. But now that the post-event ennui (or #connui, as it was quickly dubbed on Twitter) has started to pass, it's a little easier to see the uncertainty lurking all over San Diego Comic-Con. For all the glamour the event has piled onto itself, unanswered questions still abound.
What is this about?
What people used to call "Nerd Prom" has turned into a great many things: a Sundance by the Sea, thanks to the increasing incursion of Hollywood interests; a gigantic Tweet-Up.
But any notion that it's about funny books should be discarded, perhaps for good. As comic-book writer Jimmy Palmiotti (Power Girl, Jonah Hex) posted (on Twitter, natch), "This San Diego did not feel like a comic book convention … this year more than most. … most everyone I spoke to … went to a party last night and only three other comic people were there."
Odds are the rest of those comics people were at one of any number of parties: either the TweetHouse bash aboard the USS Midway; the Syfy network party; the Geek Girls Network soiree; the Topless Robot party, and on and on. Nerd Prom? This is more like a Nerd Spring Break now.
The convention's evolution – or descent, depending on whom you ask – into a Hollywood trade show also continued to manifest itself in the programming, where the likes of Sons of Anarchy, Yo Gabba Gabba and Burn Notice shared the stage with not only the standard marketing initiative announcements by the comic-book world's Big Two (DC & Marvel Comics) but with the big-budget adaptations of their works, like the much-anticipated Green Lantern presentation, which was light on footage but big on sentiment thanks to star Ryan Reynolds fulfilling a child's request:
The weekend's other big announcement was really confirmation of an assortment of rumors: that geek deity Joss Whedon would direct Marvel's Avengers film, and that Jeremy Renner (Hawkeye) and Mark Ruffalo (The Hulk) would join the stars of the company's other franchises, Robert Downey Jr. (Iron Man), Chris Hemsworth (Thor) and Chris Evans (Captain America) for the project.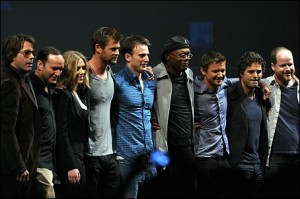 And based on three successful preview screenings, Edgar Wright's Scott Pilgrim vs. The World adaptation emerged from the weekend as the convention's "buzz hit," which Universal has to hope will translate into the kind of commercial success that Zack Snyder's Watchmen couldn't attain following a strong reception at SDCC. (Snyder also made a bid for redemption with a well-received panel for Sucker Punch.)
Then there was the lowlight that nobody could have anticipated: the incident in Hall H, where an altercation between two attendees over seating led to somebody getting assaulted with a pen, giving SDCC its first near-Altamont moment, a feat which did the near-impossible: it actually stopped the show, for all of 45 minutes.
Where Are The Comic Books?
But again, you see the issue here: the big doings at a comic-book convention weren't about comic books at all. And that conflict of identity, if not interest, also showed on the floor of the increasingly overmatched San Diego Convention Center.
Indeed, the floor, while easier to navigate this year thanks to a decrease in attendance, (con organizers said they sold 4,000 less tickets) seemed to be split between actual comics and the other stuff. And the biggest losers in the shift might have been the residents of Artist Alley, who were placed at the far south end of the floor, near several video game exhibits. Horror writer Steve Niles (30 Days of Night) might have been alluding to this when he tweeted, "There was very little comic stuff there. Lots of comic-related movies and games, but actual comics were hard to find."
That struggle for recognition has become costly. As BleedingCool.com's Rich Johnston reported:
"Top comics publishers spent $5-8 per attendee at the San Diego Comic Con, all in, running a Red Queen's Race, just to catch up with everyone else's publicity. Some smaller prominent publishers spent $3-4 trying to catch up. They will not get that money back. They're basically seeing it as an investment for when movie people come along to buy a property. Which they are doing less of this year."
Where Is This Going?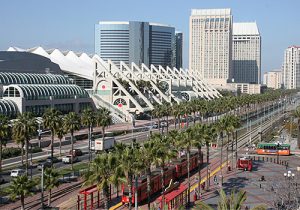 "The building's been too small for this event for seven years," SDCC board member Ned Cato Jr. said at Keith Knight's "Nappy Hour" panel, adding that his group did not want the event to leave its birthplace when its contract is up in 2012. Organizers have been saying this for awhile now, but that hasn't stopped cities like Anaheim and Los Angeles from courting the convention, offering more meeting space – something the currently water-locked SD Convention Center can't provide.
This year, more panels were farmed out to neighboring hotels, and some out-of-town attendees got to pick up their con badges at designated hotels, which seemed to ease some of the pressure. But the clock's still ticking, and a proposed building expansion wouldn't be completed until 2015 – if the city can even afford the $753 million necessary to pull it off.
During Sunday's wrap-up panel, as con officials explained to a mostly complimentary crowd that all three cities had "pros and cons" in their proposal: in the midst of the discussion, it was announced that tickets for Preview Night in 2011 – the event held before the con officially kicks off – had sold out by 3 that afternoon. And just like that, another question seemed to enter everyone's mind: how far out in advance will we have to buy tickets now?