Last week, British Member of Parliament Jo Cox died after being kicked, stabbed and shot in the street following an advice surgery she had held for her constituents. The Labour MP for Batley and Spen in Yorkshire in the north of England was apparently killed by a far-right neo-Nazi activist, Thomas Mair, who gave his name as "Death to traitors, freedom for Britain" in court.
Initially, the political world was united in its condemnation of the event. Left and right came together to express their sadness and horror that a public servant was attacked in such a horrific way. But it didn't take long for those on the far-right end of the political spectrum to start showing their true colours.
Here is a selection of what they have been up to:
1. Failed to recognise their rank hypocrisy
Eyewitnesses reported that Thomas Mair shouted "Britain first" during his assault on Jo Cox. While this could have been a simple statement, it is also the name of a far-right political party that shouts at — and about — Muslims. A lot.
In the aftermath of Cox's murder, Britain First scrambled to distance themselves from the attack, reminding people that one bad apple shouldn't reflect badly on the entire group. A concession they haven't ever granted to the vast majority of the Muslim community who despise terrorists.
2. Contested her seat when nobody else is
After the death of an MP, the customary next step is to hold a by-election so that a replacement can be elected. In this case, out of respect for Jo Cox, the main political parties decided to not contest this by-election so that another member of the Labour party could just take over. But Jack Buckby, of the conservative 'Liberty GB' party, has announced he will be standing in Cox's seat. To show you the kind of guy he is, he blamed gay people for the Orlando massacre, too.
3. Blamed Cox for her own murder
National Action NE openly praised Cox's killer, stating the MP would have "filled Yorkshire with more subhumans" — a reference to Cox's support and encouragement of immigrants and refugees in the country.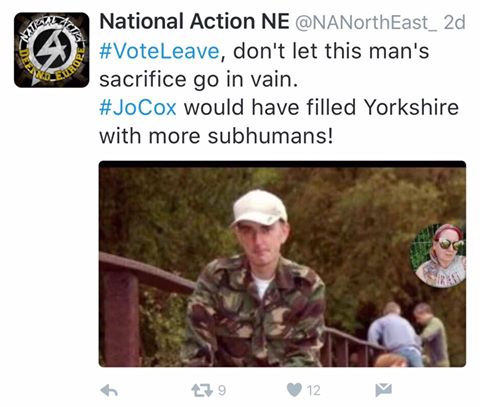 4. Called Jo Cox a fool within days of her death
Liberty GB posted (and deleted) an image of Jo Cox with a quote from her maiden speech in Parliament about how local communities have been 'enhanced by immigration'. The image was entitled "Death of a fool".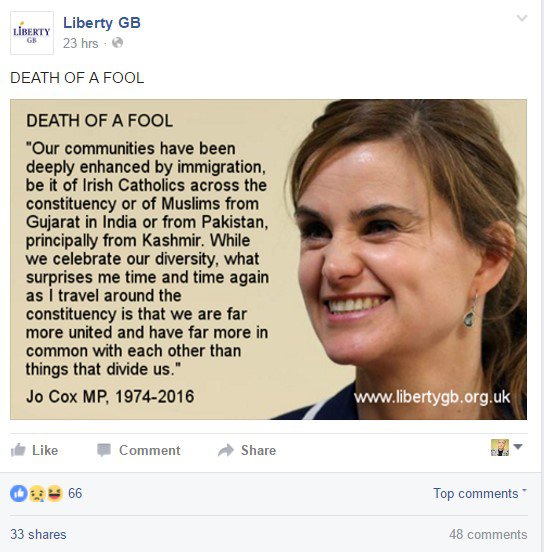 5. Tried to blame mental ill-health for what was clearly an ideological attack
It is not just that Mair may have shouted "Britain first" while assaulting Jo Cox, his membership of far-right nationalist groups has also been well documented, and we have a less-than-charming photograph of the man doing what appears to be a Nazi salute.
Despite this, disability activists have been forced to remind the web that mental ill health does not cause violence, whereas hatred does.
6. Accused political opponents of staging a 'false flag' attack
On realising that they themselves were aligned with some of the killer's motives, some right-wing Brits accused 'vote remain' (in the Brexit debate) or left-wing campaigners of killing Cox themselves to gain sympathy for their point of view.

A UKIP councillor also shared a meme, which is factually inaccurate, suggesting the same thing: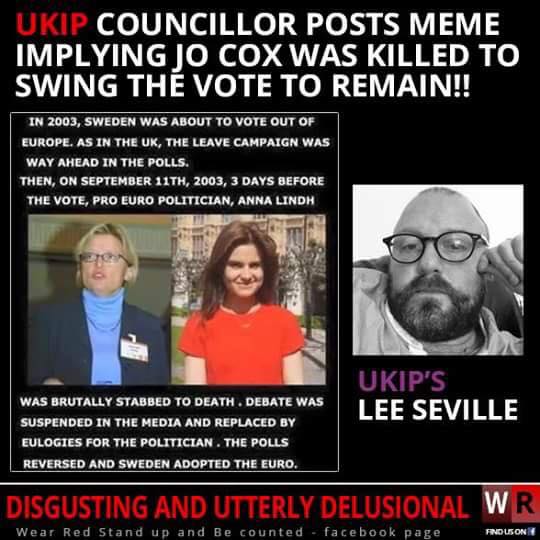 7. Turned themselves into the victims
Jayda Fransen, spokesperson for Britain First, opens a video with sympathy for Ms Cox but quickly turns the story around to defend her party and complain of a "smear campaign".
Meanwhile, right-wing politician Nigel Farage also planted himself firmly in the victim camp, fearing that Cox's murder could have caused his 'Brexit' campaign to lose momentum. Shame.
8. Said that Britain First had never had contact with Mair
Naturally, a photograph — apparently of Mair front and centre with a Britain First banner — has emerged.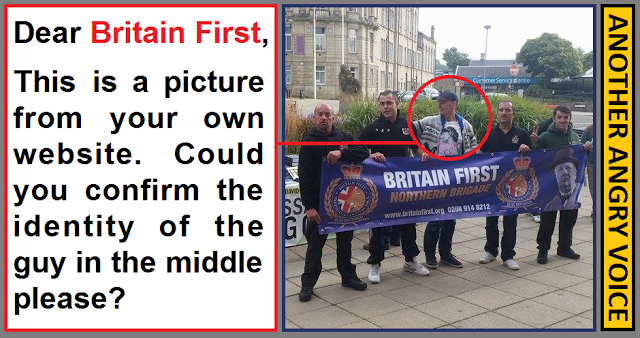 9. Refuted that racist, anti-migrant rhetoric has an impact
Whether it's Farage's "Breaking Point" poster of a long queue of apparent refugees or the daily onslaught of fear and hatred from tabloid papers, it is hard to deny that this would have an impact on an already angry, already hateful person.
Exposing Britain First has described how the party uses threats of violence and violent language in their work and Cox's husband has spoken up against the far-right rhetoric being 'aped' by more mainstream politicians trying to get the extreme right's votes.
10. Been downright vulgar
On sharing a link to a charity fundraiser supporting Jo Cox's favourite charities, Conservative councillor Dominic Peacock commented, "I've just donated the steam off my piss".
It is no coincidence that Jo Cox was a left-wing MP who actively campaigned to welcome immigrants and refugees to the UK. Her commitment to her cause and her determination to make the UK a better place certainly made her an enemy to anti-immigration and right-wing activists, but Mair's attack on her shocked the nation and the world. It is some consolation that a fund set up in her memory, to donate money to three charities — including Hope not Hate — has already raised over £1,000,000.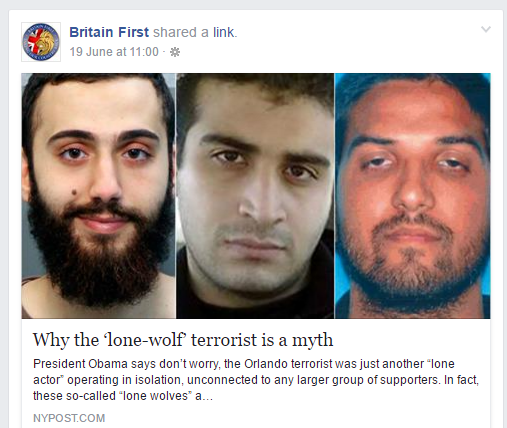 Cox was in the process of preparing a report on far-right nationalists and Islamophobia and was clearly no ally to racist and Islamophobic campaigners. The role that nationalism and racism played in her death may never be fully understood, but this is a time for extreme right-wing campaigners to look at their attitudes and their tactics and to question whether their actions and views played any part in politicising the violence of the man currently detained for Jo Cox's murder, and ask themselves whether this could happen again if they continue with their aggressive attacks against migrants and refugees, multiculturalism, and anyone who supports them.
Photo: Garry Knight/Creative Commons