[rating=4]
Reading's Cemetery Junction is a notorious bottleneck for rush hour traffic, a place where time can literally come to a halt if you don't plan your journey with due care or attention. This is exactly the same problem facing three working class lads in Ricky Gervais and Stephen Merchant's new movie.
Set in the summer of 1973, the leafy world of "Cemetery Junction" seems untouched by high inflation, the oil crisis and the bitter battles between Edward Heath's Conservative Government and the unions that would result in the disastrous three day week and Heath's humiliating defeat in the 1974 General election.
Oblivious to the outside world whist "Shagging, boozing and fighting" their way to their early twenties are best mates Freddie, Bruce and Snork. Elton John's electric "Saturday Night's Alright (For Fighting)" bullies the audience as we follow the boys through a raucous montage that captures the small town glamour of being "Big fish in a small pond" but the irony of lyrics like, I'm a juvenile product of the working class whose best friend floats in the bottom of a glass is lost on the three friends.
Perhaps not on Freddie though. He's left his factory job for the white collar utopia of selling life assurance. His new boss is the self made Mr Kendrick, a man who despises his working class roots and is happy to encourage like minded individuals to do the same. Kendrick's success is built on the misery of others, the people who are frightened into buying his policies and his wife and daughter, who are trophies to be displayed and brought out on special occasions like the insufferable "Winner's Ball."
Ralph Fiennes as Mr Kendrick is the spitting image of Leonard Rossiter, but he's more Rigsby than Reggie Perrin with his mantra, "Men work, women worry." He's already moulding his free spirited daughter Julie into a carbon copy of her downtrodden mother, "I'll know where she'll be in five years, at home with my Grandchildren." This is a man who doesn't even say thank you for a cup of tea let alone acknowledge his wife's rights as a human being.
Is this the out Freddie really wants or can Julie show him another way to break the class expectations imposed on him? Plastering Julie's bedroom wall are photographs from her cousin taken on her round the world trip. The world was a bigger, scarier place in 1973: we didn't have Rough Guides or Facebook friends from all over the globe to plan exotic journeys but her cousin represents freedom, the escape from the deferred gratification of the middle class and the instant gratification of the working class.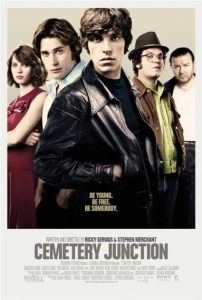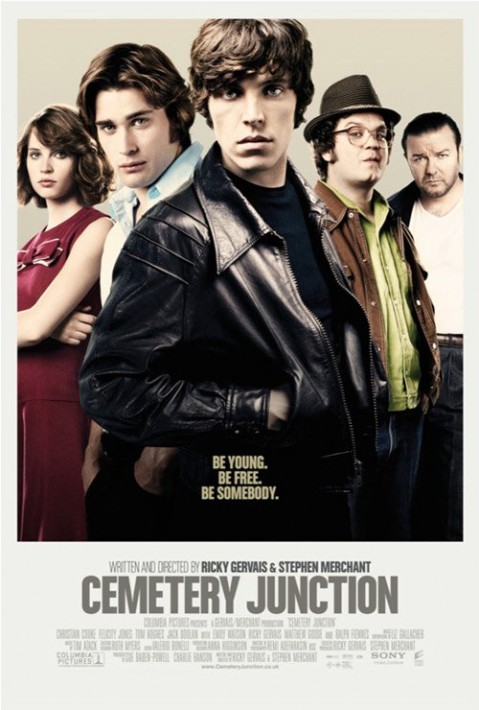 "Cemetery Junction" reminds us of stories of big pools winners blowing their money on a detached house, or the dustman who saved his entire life to buy a Rolls Royce. It highlights the folly of the British obsession for owning their property, "In twenty five years I'll be able to live rent free," and how frightening it can be when you make decisions that can influence the rest of your life.
More than that Gervais and Merchant make us laugh uneasily at ourselves and topics that still dominate Britain's agenda today: race, immigration, gender, class, anti social behaviour and the breakdown of the family unit. They also make it clear that while some of us need to make it out, there's nothing wrong with those of us that stay. Sometimes love and family are more important than seeking your fortune and in that, "Cemetery Junction" is a big hearted triumph.