When Sandra Bullock won an Oscar for her role as a White saviour in the movie "The Blind Side," she spoke movingly about her husband Jesse James and what their relationship means to her. It had to be quite a shock when it was revealed a few days later that James had been unfaithful. From Barbara Walters to Betty White, Americans have rallied around Bullock.
Unsurprisingly, Jesse James' mistress, Michelle "Bombshell" McGee, has been slut-shamed in public. McGee has been compared to Bullock, and found wanting. Critics have pointed to reports that she gives the Nazi salute, has participated in a photo shoot wearing Nazi regalia, and is reported to have White supremacist decor throughout her home. She also has the letters "W P" tattooed on her body and though she claims that the letters stand for "wet p*ssy," based on her previous behavior, it's more likely that the letters stand for "white power."
Meanwhile, Jesse James' former wife is now married to an admitted skinhead. Finally, in what is perhaps the most telling detail, the logo for James' company is eerily similar to the German iron cross. There is now open speculation as whether or not his affair and the logo signify that James is indeed a White supremacist.
Judging from the fact that she has left the home she shared with James, it is safe to assume that Bullock was not aware of her husband's lecherous behavior, but can the same really be said about his alleged White Supremacist leanings? White supremacists are not known to be quiet about their political leanings. If James is indeed a White supremacist, it is unlikely that he would be able to hide his bigotry for a long period of time. So what does this tell us about Sandra Bullock, America's Sweetheart?
Bullock won an Oscar for dutifully playing an altruistic White woman, saving Blacks from themselves. Melissa Anderson of the Dallas Observer, describes "The Blind Side" as:
"the movie [that] peddles the most insidious kind of racism, one in which whiteys are virtuous saviours, coming to the rescue of blacks who become superfluous in narratives that are supposed to be about them".
Perhaps the racism displayed in "The Blind Side" is of a more palatable nature because it extols Whiteness as a virtue, whereas considering the possibility of active White supremacist ideology is untenable, because it implies an overt form of hatred that Americans have convinced themselves is the only signifier of racism. In the so-called post-racial world, accusing someone of being racist is considered a very loaded charge. This is why we often resist questioning situations that are truly problematic.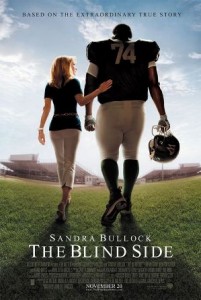 Alexander Smith once said, "Love is but the discovery of ourselves in others, and the delight in the recognition." What did James and Bullock see in each other? Why isn't anyone asking themselves this question? If James is indeed a White supremacist, Bullock would have had to knowingly accept this as simply a character flaw, or she was in complete agreement with his racistm. Regardless of her stance, this situations reads like a testament to Bullock's views on White privilege.
One can only ignore White supremacy if race or racialized matters bear little to no import on one's life. My mother would often tell me as a child that birds of a feather flock together, and that who we choose to actively engage with is a reflection of our belief system. This was no casual relationship; James was an active part of Bullock's intimate life.
None of the stigma of James' behaviour has attached itself to Bullock. James is constructed as the "bad boy" and represents a teachable moment to all women who insist on loving the rebel. When we say "poor Sandra," we propagate a cautionary tale of what happens when a supposed "good girl" mixes with the wrong crowd. Was James ever really the wrong crowd as far as Bullock was concerned, though?
Couples will have differences about finances, the frequency of sex, etc., but core beliefs tend to be something that there is an alignment on. There is the old adage that opposites attract, but even in our supposed opposition, there is always some form of consensus to form the basis of a relationship.
What we choose to compromise on in a relationship reveals how attached we are to our moral positions. Even if Bullock finds racism abhorrent, having an intimate relationship with an alleged White supremacist reveals that perhaps the level to which she believes in equality is questionable at best.
There have been many instances in which one half of a couple has engaged in illegal behaviour without the other spouse being aware. In the case of the Madoffs, you have Bernie stealing millions of dollars without his wife's knowledge. The major difference here is that Bernie's situation involved finances, as opposed to a core philosophy. A corporation is a separate entity, whereas White supremacy is not something one can just shrug off like a work jacket at the end of the day.
How blind is love, really? We already know that Bullock had no problem playing the role of a racist White woman in the movie "Crash," and a White saviour in "The Blind Side." Perhaps, the truth is closer to fiction than we realize.