"Presumed Guilty" is the title of this year's closing night doc at the 2010 Human Rights Watch Film Festival, a co-presentation of Human Rights Watch and The Film Society of Lincoln Center that takes place June 10th – 24th at the Walter Reade Theater here in NYC, showcasing 30 diverse cause-driven films from 25 countries. It's also a fascinating peek inside the Orwellian and oxymoronic Mexican justice system where corruption is so ingrained that those in charge are left nearly flabbergasted when young lawyers Roberto Hernández and Layda Negrete, along with filmmaker Geoffrey Smith, show up to challenge the status quo camera firmly in tow.
Moving like a swift episode from Jean-Xavier de Lestrade's "Sin City Law" documentary series for the Sundance Channel, the film follows the trials and wrenching tribulations of Toño Zuniga, an aspiring rap star and break-dancer plucked from a Mexico City street in December 2005 and sentenced to 20 years for a murder he hadn't even heard about let alone committed. Fortunately, a friend had heard about Hernández and Negrete, legal eagles who'd gained the release of another innocent man via their investigative doc "The Tunnel," and contacted them. (Unfortunately, the two were preparing to leave for the University of California Berkeley to attend grad school.) Nonetheless the lawyers brought onboard another wily barrister and, upon discovering that Zuniga's original counsel wasn't even really a lawyer, having forged his license, fought to get him a retrial – this time with a camera commandeered by Smith allowed inside the courtroom.
The downside? The same judge is appointed to preside.
Deftly edited and set to the sound of Zuniga's catchy rap tunes the doc alternates between footage of the sweet and handsome Zuniga and his supportive loving family, shots of the (20 men per cell) prison where he's incarcerated, and images of his lawyers poring through kangaroo court type documents which are often superimposed with brutal statistics – such as the fact that 93% of defendants in Mexico never see a judge nor are shown an arrest warrant. Indeed, what "Presumed Guilty" uncovers is a stranger than fiction judicial system in which detectives routinely feed witnesses information (it took three statements by a single witness before Zuniga was accused) and have no qualms making up and exaggerating crimes in order to ramp up jail time for those arrested. Even more bizarre are the courtroom scenes the filmmakers capture, where case files are off limits for questioning and mano-a-mano combat style cross-examinations occur in the form of "face offs."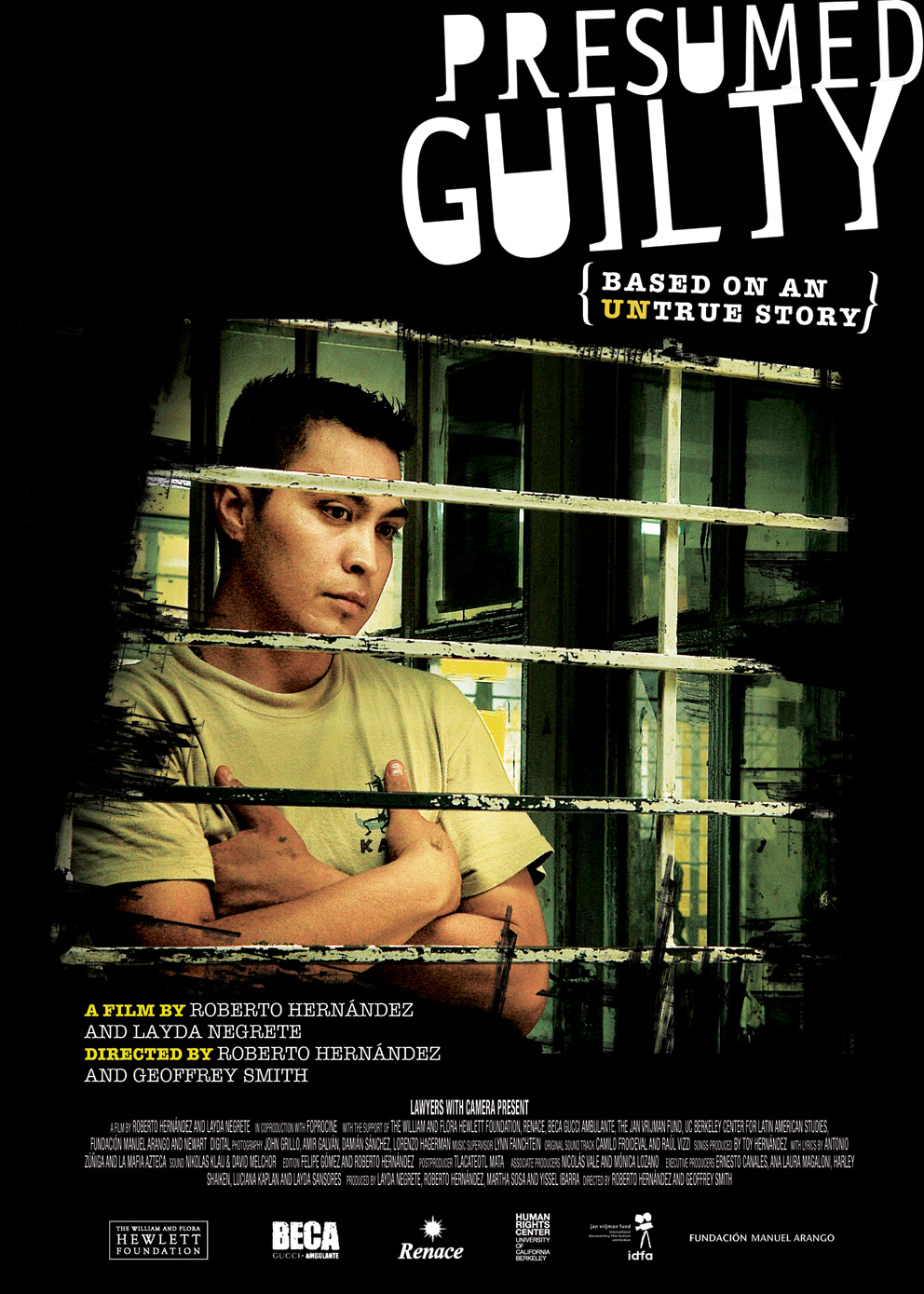 Literally, Zuniga and the chief detective (who claims he never took part in the arrest that he signed off on) sit face-to-face questioning one another separated only by cell bars. Which makes twisted sense since this Mexican system that presumes guilt is not about justice but really about saving face, with the detective choosing to protest the presence of the camera over engaging with Zuniga.
By the time the accused faces off with his accuser (who didn't know Zuniga had tested negative for firing a gun) and the prosecutor delivers her closing statements on a floppy disk to the judge events have reached Kafkaesque levels. "Why do I accuse him? Because it's my job," the flummoxed prosecutor acknowledges with an embarrassed smile after Zuniga objects to her not addressing the court. When asked to predict the trial's outcome Zuniga compares his judicial odyssey to a back flip while break-dancing. In a country in which 95% of verdicts are convictions and 92% are not based on any physical evidence executing every move right is no guarantee you'll land on your feet.