Small town girl Sawako is constipated both literally and metaphorically. Her dream life in Tokyo has ground to a halt. Her get up and go has got up and gone. She's on her 5th job and her 5th boyfriend. She cleans up after toy-testing toddlers have peed on the floor and is mercilessly bullied equally by her male boss and female co-workers alike. Her knitting obsessed boyfriend Kenichi is a wannabe eco-warrior who sees Sawako as a potential mother to his young daughter Kayoko.
"You've learned how to relax for insertion," deadpans her colonic irrigation nurse. Certainly Sawako has learned how to bend over and take the worst that Japanese society has to offer. She has become so emotionally stunted that she can't even offer a defence to her tormentors other than, " I have no dreams or aspirations." When quizzed on the global economic crisis Sawako meekly offers, "Can't really be helped can it." She even sits exactly like the forlorn gorilla in the Zoo she visits with the hopeless Kenichi and Kayoko.
Sawako is a woman devoid of pride, without opinion and lacking any sense of self-worth. Those traits have been shredded by the Japanese class system. She guzzles beer, watches television and goes to work and that's about it. Only when she receives a call out of the blue from her boozehound uncle do we start to piece together the reasons why she left for Tokyo in the first place. The news isn't good–her father Tadao is seriously ill and she's needed to run his faltering freshwater clam business.
With the ever-pathetic Kenichi in tow Sawako reluctantly returns home to a Japan more self-sufficient, more in tune with nature. But once again she is bullied by the workforce, this time middle aged women who are married to the clam fishermen. They mumble their way through the company song, heckling Sawako's speeches and relishing her failures as only fishwives can. Even Kenichi gets in on the act, "How can you just shrug off your failures?" he asks, blissfully unaware of his own as a father.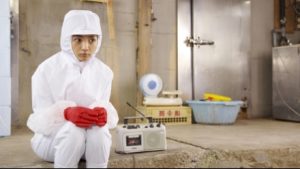 Sawako's rehabilitation ultimately comes through her relationships with her father and Kayoko. Both are handled with dignity and wit. As ever children-even ones in adulthood never see the true extent of their parents love. In Sawako's case it's when she's blasted on booze. Tadao gushes with love, "She got drunk and fell asleep." She might have just won the Nobel Peace Prize such is the admiration in his gaze. When Kayoko watches a news story about a child killer she eyes Sawako like a Roald Dahl stepmother before sharing her bed with a daughter's affection.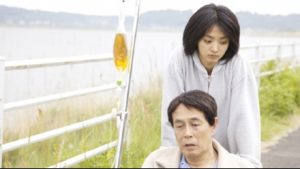 What marks out director Yuya Ishii's bitter sweet comedy is its celebration of mediocrity. In a population of over 127 million someone is bound to be average. Sawako accepts her fate and runs with it, "I've know choice, so I'll hang in there tomorrow too." It's the last line of the film and with the hindsight of the earthquake, tsunami and subsequent Fukushima nuclear disaster; it rings with a terrible truth. In fact what started out as a minor work is now rendered the bleakest of comedies as the dreadful dramatic irony unfolds. Even settling for the painfully average is still not enough to appease nature.