The Karate Kid and his rip-offs: a showdown
Posted on Thursday, July 15th, 2010 at 2:59 pm
Author: Joe Sapien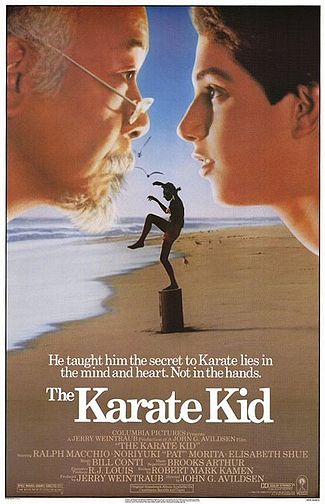 You may have heard about Hollywood's latest rabbit punch to our collective forehead, namely the remake of The Karate Kid. I certainly have, and I've seen any number of by lines exclaiming that it's "better than the original!" Well, that may be.
I won't rant here and establish my cred as a child of the 80's by insisting that the original was better, but I will ask you to think this through: Since it first came out, The Karate Kid has been used as the unsung source material for at least two other movies, namely Never Back Down and Sidekicks. The fact that there have been three multi-million dollar reproductions of the movie where a boy learns to substitute martial arts for puberty is concerning in and of itself. But it's also important (1) to parse out the specifics. Think of this as a sort of a detailed balance sheet of the creative bankruptcy we all support every time we fail to wait until we can just pirate a movie off the internet.
All three of these movies have both borrowed and differed from the original formula in important ways, which I intend to analyze on a point-by-point basis, thus determining the winner to a competition whose scoring system exists entirely in my dented head.
Title:
The Karate Kid (original): This is a fairly unimaginative, but descriptive title, and it gives you a pretty good idea of what you're going to see in the movie – namely, a kid that will probably do some karate.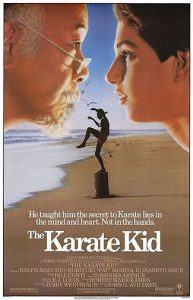 Sidekicks: This title is a reference to the protagonist's lip-curling escapist fantasies, where he accompanies Chuck Norris on a variety of dangerous and highly idiotic combat missions. But cleverly, the title also alludes to the activity of kicking, which has historically been used by groups such as soccer players, kangaroos, epilleptics, and martial artists! It's very possible that this title is the cleverest part of the movie.

Never Back Down: This just seems like one of those titles that was scribbled down in a rush, 5 minutes before the film had to be submitted. In a particularly subtle move, "Never back down!" is also a phrase that Djimon Hounsou screams at his students while they work out. So in addition to being a questionable (2) bit of advice, we're also treated to self-referential dialogue which is a bit like eating in a fancy French restaurant, and being asked if m'sieur would like some fresh dong for his soup.

The Karate Kid (2010 remake): The main character learns kung fu. I realize that karate and kung fu share a number of characteristics, such as starting with the letter 'k,' and being created by Oriental people. But this sort of broad generalization – and the fact that nobody really seems to care – makes me wonder why we got so mad at Rosie O'Donnell for making "ching chong" noises on television.
Winner: Logic compels us to give this to the original Karate Kid, but Never Back Down is the sort of go-get-'em encouragement I whisper to my puppy when the cat picks on him. Tie.
Central conflict:
The Karate Kid (original): The hero, Daniel Larusso talks to a girl with the porportions and sex appeal of a Lego ™ person while he's at the beach. The villain refuses to watch Daniel make time with his girl, and proceeds to make a minor career out of using Daniel as a sort of squealing, fleeing real-life karate dummy.

Sidekicks: The main character, Barry, is just weird and unappealing. He has lurid fantasies about being friends with Chuck Norris, the 40-something year old bearded karate-man who has since turned into an internet punchline. Barry also suffers from crippling asthma. Finally, he is in love with the girl from The Wonder Years – a fact which I'm just as bemused to write as you are to read. The villain takes hilarious exception to all of this.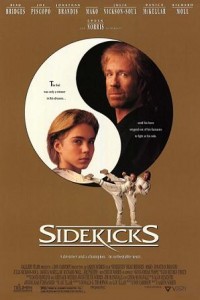 Never Back Down: Jake Tyler, witless protagonist, unknowingly talks to the girlfriend of a maniac that has decided to dedicate his entire life to sit ups, sneering, and hitting things (in that order). After being lured to a party, Jake finds himself the recipient of the sort of efficient, lightning-fast head trauma usually reserved for producing kobe beef. Do you see a pattern yet?

The Karate Kid (2010 remake): Dre, recently moved to China, makes the mistake of talking to a girl playing violin on a bench. The villain clearly sees this as a sign of international aggression, and proceeds to kick Dre's ass so hard and flawlessly that I was surprised not to see a hidden bonus level appear after the fight was over.
Winner: The Karate Kid (2010 remake). While all of these conflicts are more or less the same, I detected some very now-relevant political overtones. Also, when Cheng circle-kicked Baby Smith in the head, it looked sort of like a World Cup promo, which I enjoyed very much.
Teacher:
The Karate Kid (original): After being thrashed, humiliated, and literally left on the beach for dead, Daniel begins to learn martial arts from the now-legendary internet meme, Mr. Miyagi. Miyagi's unconventional style of karate instruction relies heavily on having his student perform uncompensated labor. This stands in stark contrast to the training regimen of his nemesis, which features a heavier focus on actually learning to punch and kick another human being.
A few other important things to note about Mr. Miyagi are that he heals the injuries of young boys by gently rubbing salve on their bodies without first getting parental consent or having a chaperone present. He also has a number of medals from his service to Japan during WW2; he fought bravely, but I think it's safe to say that karate proved vastly inferior to MacArthur's two-dimensional island hopping campaign.
Sidekicks: In a refreshing display of lazy racism, the protagonist's mentor was both a karate teacher and the owner of a generic Chinese restaurant. After a few seconds of creative thought, he was also named Mr. Lee. I don't think the writers could have made him more generically Asian, short of naming him General Tsao, or just letting a giant panda wander around the set while actors shouted lines at it.
Also, in what may have been a very sophisticated murder attempt, Barry's mentor tells him that asthma is primarily in his mind – when modern medicine suggests it's really more in the respiratory pathways. This makes Barry's trip to the hospital both inevitable and entertaining. I'm surprised the malevolent Mr. Lee didn't try to show Barry the ancient karate techniques of bullet-catching.
Also, at the end of the movie, Chuck Norris appears, and teaches the protagonist that a) dreams really do come true, and b) karate allows you to kick a man in the head just hard enough to make him cartwheel through the air and suffer massive personality changes, but not hard enough to kill him. Barely.
Never Back Down: The teacher in this movie is a disappointingly normal man, named Jean Roqua. For the purposes of this article, he's significant only in that his training techniques don't involve child labor or attempted murder.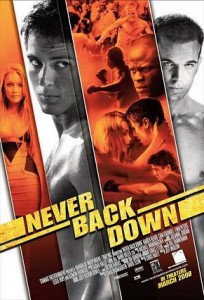 Instead of karate, or karate that's actually kung fu, he teaches MMA. It's a system of fighting that eschews sissy things like colored belts and intricate stances in favor of converting another human being into moist compost, using the hardest and bluntest parts of your own body. Roqua eventually reveals that he fled his home country of Brazil out of guilt, because someone shot his brother (3). Now he spends his days training fighters and developing the kinds of biceps that need their own tickets on airplanes.
The Karate Kid (2010 remake): Mr. Han is a maintenance man who walks as though his doctor backed way up and got a running start before giving him a colonoscopy – the reasons for this are never made clear.
In a nod to Mr. Miyagi, Mr. Han begins by having his student do stupid, repetitive tasks designed to assault the human spirit. He later graduates his student into a world of kung fu, and takes him to a beautiful martial arts sanctuary where people hypnotize cobras, balance on pedestals, and probably learn to throw fireballs out of their bare hands.
To follow this up, he reveals himself as a tragic drunk who mourns the loss of his wife and child. When you look at all of Mr. Han's attributes on paper, he is basically the worst person to leave unsupervised with a child who doesn't speak enough Chinese to call for help.
Winner: Sidekicks. Every last one of these instructors is an unmitigated disaster, but I loved the fact that Mr. Lee was a calculating psychopath. He knew how funny it would be to have Barry cure his asthma through a combination of strenuous exercise and willpower. It's like curing allergies with a strict regimen of bee stings and a bag over the head.
Nemesis:
The Karate Kid (original): Johnny was the archetypical teen badass. He didn't have muscles, a triple digit IQ, or the least shred of self-awareness. But he did have three very important attributes:
1) Baseless, unshakeable self-confidence.
2) An insane level of aggression: it was like scientists had captured an adolescent great white shark, forced it to watch pornography while dumping cocaine into it's tank, and then transplanted that brain into Johnny's head.
3) Headband.
Johnny's feats were varied and many, but they all adhered to the central theme of being both unnecessary and vicious. He also used the deadliest karate he knows on anybody that he thinks may have crossed him – Johnny isn't real clear on stuff like that. His attempt to cripple Daniel for life may seem over the top to most people, but you know what? I think it reveals the competitive spirit of a champion.
Sidekicks: Randy Cellini, much in the vein of Johnny, is a popular high school jock who focuses most of his time and attention on using martial arts to terrorize the scrawny and powerless. However, he is fairly small potatoes as far as nemeses go, in that he barely ever attempts to kill the main character with his bare hands.
He never even fights Barry at the end of the movie, and therefore can't deliver any illegal blows or eye gouges. Instead, they face off in a brick breaking competition, which may as well have been a showdown to see who could wear a frillier gown to the debutante ball.
Never Back Down: Ryan McCarthy is a megalomaniac who must somehow find a way to balance out his two great loves: showing off his abs and putting people in comas. It's easy to see his internal conflict play itself out through each one of his fights, as he alternates between posing like a bargain-basement rapper and attempting to blast open his opponent's skulls like a Rhodesian diamond driller. The fact that he never finds that particular tipping point is, in its own way, haunting and authentic.
Few people, if any, are able to locate and maintain their emotional "sweet spot." Have you? When I watch Ryan struggle with the decision to put his fist through someone's thorax or his genitals on/around their girlfriend…I see us all.
The Karate Kid (2010 remake): Cheng is the sort of person that I am simultaneously glad and sad that I don't have in my life. He seems like the sort of person that could teach me everything there is to know about concentration, focused ambition, and victory. But he also seems like the kind of soft-spoken psychopath that would go about it by tackling me off of a cliff and then hitting me in the mouth while we fell to our deaths.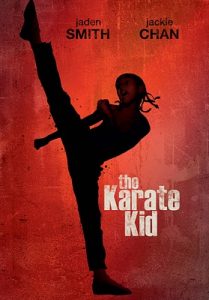 When he delivers the first of many beatings to the main character, it seems pretty brutal. What you don't realize until the end of the movie, however, is that he fights that way all the time. It doesn't matter if he's trying to win a tournament or simply venting his frustration over how useless his Pokemon collection has turned out to be: he's going to beat who or whatever's in front of him into borscht.
As a charming side fact, he also manages to maintain the most viciously angry face I've ever seen on a 12 year old. As I stare at his rage simmering behind those flat, empty eyes, I finally know what it's like to face a cobra with IBD.
Winner: Me. These guys were my absolute favorite part of each one of these movies.
1) I realize how entirely ridiculous and relative it is to say this.
2) Read: bad. Ask Custer.
3) Each one of these movies features a morbid backstory for the teacher, which is really a misguided and senseless attempt to give the character some depth; it's important to remember not to care.