Picture courtesy of Liza Bishop & Kent Morris.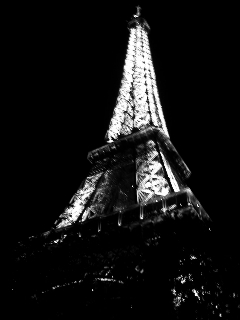 Back in 2003, the love affair between France and America ended.
To make matters worse, the "break-up" between the two countries happened on Valentines Day – what a stab through the heart!
The sexiest politician of all time, Dominique de Villepin, then the French Foreign Affairs Minister, made a famous speech at the UN Security Council, condemning America's invasion of Iraq. As the result, many Americans deserted Paris.
However, four years later the conflict between America and France is mostly over. The lovers have reconciled, and the American crowds are swarming back.
France is attractive to Americans for numerous reasons:
Paris in particular offers a lower cost of living when compared to other big cities such as New York or Boston. Paris's architecture is arguably more charming than New York's. Where else can you have lunch under a Tiepolo, or lounge on the Bateaux Mouches on the Seine? Utilitarian tasks become all the more delicious in Paris.
In the summer, you can even lie on the beach by the Seine. Manhattan's shoreline is highly unattractive by comparison.
This love affair between the two countries traces its roots to King Louis XVI and his support for the American Revolution. And Benjamin Franklin, for example, made numerous gracious visits to France and to the Court of Versailles.
For a 20th century American, Paris was the place to be, especially if one were an artist. Painters such as Mary Cassatt and Henry Ossawa Tanna lived there. In fact, Henry fell so in love with Paris that he remained there until is death. American writers living in Paris wrote some of their best works there, the list includes: Norman Mailer, Ernest Hemingway, Henry Miller, and so on.
Today the prominent Americans who are attracted to move to Paris are of a different kind – the Hollywood glamour kind. Why not? It seems that Paris has always been glamorous and will remain so, just look at the designers: John Galliano, Christian Lacroix, Hedy Slimane, Azzedine Alaïa, Jean Paul Gautier and the house of Dior (speaking of which, American Doris Brynner, the widow of actor Yul Brynner, manages the interior design department of Dior and travels the world looking for the right objects to represent the company.). One can't forget America's own Marc Jacobs, Creative Director to Louis Vuitton.
Paris is in a revolution of cool, as Sofia Coppola's film "Marie Antoinette" (shot at Versailles castle) has demonstrated. Miss Coppola is not the only Hollywood star living in Paris, she is in good company along with Lauren Bacall, Kristin Scott Thomas, Monica Belluci and the very witty Whit Stillman. Other, glamorous Americans in town include Lee Radziwill, the sister of Jackie O, almost as famous as Whit Stillman for her great sense of humour.
It's not surprising that these rich Americans who get the most for their dollar can be found living in the chicest and oldest areas such as the 6th district. Ariana Boardman used to live there before she married tycoon Dixon Boardman.
If you are an American only going for a quick trip to Paris, you should know that rich Americans' favourite hotels to stay in are the George V and the Crillon, which famously hosts the Crillon ball every year. American debutantes such as Anna Wintour's daughter, Lauren Bush, and Victoria and Vanessa Traina (daughters of American novelist Danielle Steel) came out at the event.
The fact that American celebrities have adjusted well to Paris does not mean, of course, that the average American can. There are many potential pitfalls along the way. Do read Edith Wharton's book who explained it all (French Ways and Their Meaning). The film "Le Divorce," may also steer you away from over-dressing, breaking the rules as to who gets to pay for dinner, and misunderstanding extra-marital affairs.
When I was at Dana Vachon's book reading – he wrote the best-seller Mergers and Acquisitions – I found out he's decamping to Paris too. Many are following, considering the financial troubles in the United States.
I suppose I'll see you in Paris!