Zombies are the allegorical gift to global cinema that keeps on giving. They are in perpetual motion, always shambling or racing forward, the unread children of progress heralding the new world order from America, Great Britain, and now, South Korea. The walking dead's own unique breed of disaster capitalism is freshly served in Yeon Sang-ho's hyperactive, sling-shot of a movie Train To Busan, a fast food joint we're all going to have to try and take a bite out of as it speeds past at 190mph.
Seok-woo is a workaholic fund manager with Tom Cruise hair and an inconvenient daughter, Su-an, who desperately wants her dad to take notice of her on her birthday. His ex-wife lives in Busan, one of two cities not to be occupied by the North during the first phase of the Korean War and defended by UN troops who set up a the Pusan Perimeter in 1950. Busan has always been a beacon of hope, one of the busiest seaports in the world and a gateway to Japan. Su-an is unimpressed by her sporadic father and wants to board a KTX train to see her estranged mother.
Director Yeon Sang-ho sets up the train journey like a classic disaster movie in the mold of The Cassandra Crossing or the Airport franchise. As we follow Seok-woo and Su-an to their luxury seats, we eavesdrop on disparate bunch of passengers loading up their bags completely unaware of the blood-curdling savagery they are all about to encounter. The good, the bad, and the ugly of Korean society are all aboard the high-speed train: a bastard CEO, a high-school baseball team, a pair of elderly sisters, a resourceful working class husband and his pregnant wife, and a homeless man derogatively referred to as "an odd person" by a fellow passenger.
As the train leaves the station, we catch glimpses of the unfolding infection mostly missed by the passengers due to their prejudice, or their own zombification, which occurs through their obsession with social media. When the outbreak hits the train it spreads like wild fire, the zombies cracking sinew and bones as a weird concoction of rigor mortis and athletic prowess turns them into ruthlessly effective killing machines. Like Snowpiercer before it, Train To Busan is a film about doors and separation, a closed society that is terrified of breaking conventions, the body politic scared of their own reflection. When the passengers flee between the carriages we see just how dysfunctional South Korean society really is.
Train To Busan of course tackles the rigorous class divide but also the cost of having an education system based upon students being test-ready rather than being equipped to adapt to different challenges. "To be a South Korean child ultimately is not about freedom, personal choice or happiness; it is about production, performance and obedience," argues Yale academic See-Wong Koo. Su-an is an adorable sweetheart but her ability to adapt alongside some of the other passengers is what keeps them alive longer than those who can't shake off the shackles of conformity.
When we see zombies rain from the sky from of the landing skis of helicopters or when dozens of undead soldiers fall from the station onto the tracks, these deadly lemmings remind us of the atrocious suicide rate that South Korea's brutally competitive education system helps to foster. The South Korean novelist Young Ha Kim wrote, "Suicide is the "No.1 cause of death for people between the ages of 10 and 30." What Train To Busan does show us is the self-sacrifice of good people when confronted by horrific odds, reconnecting with society after it has been ripped apart and spat out by flesh eating monsters or resource gobbling, capitalist corporations that prize money over family.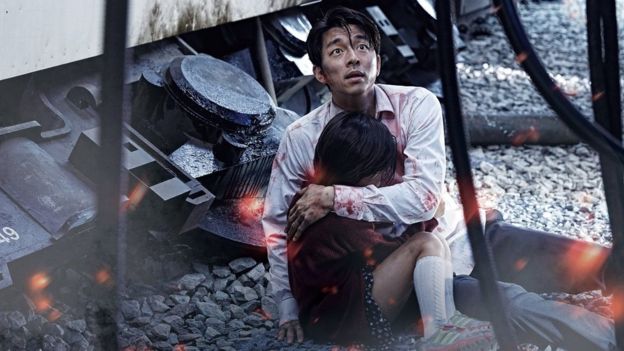 If nothing else Train to Busan is a high-octane chase movie, a race against time to save not only people but also their very souls from rampant consumerism. When the high tech KTX train can't make the final journey a trusty, working class diesel locomotive is sought to finish the job in a teeth clenching set piece. Just like in The Korean War the back breaking and dangerous physical work of the soldier, the farmer and the factory worker and not a smart phone in sight saved the nation.
American novelist Marianne Wiggins wrote: "What thrills me about trains is not their size or their equipment but the fact that they are moving, that they embody a connection between unseen places." Train To Busan unites the classes divided by wealth and education as well as over six decades between past and present. When a soldier decides whether or not a silhouette in a tunnel is a person or not, the scene is reminiscent of Cross Of Iron, when a simple act of humanity could be the difference between salvation and damnation. As bloody and visceral as Train To Busan is, we find hope in the former.